This link party was created to bring together all of you thrifty bloggers! So link up with your blog post showing your recent thrifted finds!
Got this on my recent trip to California.
I seriously need to find a new thrift store. I went to goodwill yesterday to find they changed their way of pricing (again) and are charging some pretty ridiculous prices! I was super bummed! It used to be my favorite place to shop and it's only 10 minutes away.
How's thrifting in your neck of the woods?
1. Follow your hosts through GFC or Bloglovin'
2. Link your post with your thirfted things. (can be from thrift stores, flea markets, swap meets, craigslist, estate sales, etc)
3. Visit one another. Make new friends!
4. Grab the button and add it to your blog.
5. Share this with your friends! Let's grow this awesome link party!
Tweet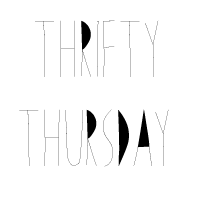 <div align="center"><a href="http://www.anchorsandhoney.com/" title="anchors and honey"><img src="http://i1262.photobucket.com/albums/ii617/redrosevintage/thursday_zpsa3ea8daa.png" alt="anchors and honey" style="border:none;" /></a></div>