Thursday, November 1, 2012
Remember! As of today Thrifty Thursday will be live on the first and last Thursday of the month.
If you don't have recent finds you can always link up with old posts!
This link party was created to bring together all of you thrifty bloggers! So link up with your blog post showing your recent thrifted finds!
Letters $1 each.Coffee can $1.50.Knitted gloves $1
Tweet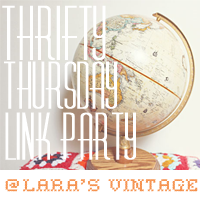 <div align="center"><a href="http://larasvintage.blogspot.com/search/label/thriftstorefinds 
" title="redrosevintage" target="_blank"><img src="http://i1262.photobucket.com/albums/ii617/redrosevintage/thriftythursday.png" alt="redrosevintage" style="border:none;" /></a></div>